Contact Us

The Melonhead Foundation, Inc.
1840 E Baseline RD Suite A-1
Tempe, AZ 85283
(480) 656-4983
(888) melon21
information@melonhead.org
Follow us on Twitter:
Home
The Melonhead Foundation is a 501(c)(3) organization that supports the needs of children with cancer and their families.
The Foundation has a threefold purpose:
To provide financial aid to families of children 21 years of age or younger, with any diagnosis of cancer.  We have awarded payment for housing, insurance, utilities, food, medical expenses and natural healing such as acupuncture, massage, and naturopaths when requested.


To provide a resource center for all patients experiencing cancer and searching for alternative practices.


The ultimate goal of The Foundation is to establish the first permanent Camp Wannahealyah (www.campwannahealyah.org) in Arizona. Our first two prototypes, held in 2002 in Mesa and Jerome, were greatly successful and proved our model to be viable.
---
As a wellness center and healing home environment focusing on natural healing modalities, The Foundation intends to  facilitate wellness for pediatric cancer patients. Our model will teach and implement natural practices for patients and their family members. Modalities include but are not limited to Acupuncture, Massage, Chinese Medicine, Yoga, Spiritual Response Therapy, Reiki and Emotional Trauma Release Therapy. Our healing techniques will affect a healing on all levels treating body, mind and soul.
The Foundation is seeking property and funding to establish a permanent facility in a nurturing setting.  Our Camp Wannahealyah will have unlimited potential, offering day programs, weekend intensives, two-week protocols and other opportunities to experience the most renowned healers in their fields.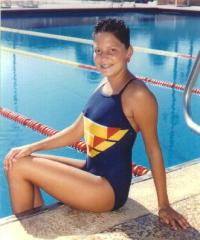 As a young girl, Melanie Leone was a competitive swimmer with a dream of winning a gold medal in the 1992 Olympic Games. Even before she was diagnosed with leukemia and lost all of her hair during chemotherapy, her swimming friends affectionately called her "Melonhead."
Of course, the nickname was even more appropriate as she continued to train all through her chemotherapy treatment. Melanie was so positive in her attitude that her hair loss became an asset to swimming. "No drag--it feels cool as I zoom through the water."
Melanie was diagnosed with acute lymphocytic leukemia on August 31, 1989. She died on March 4, 1992. Her 2 year and 7 month journey inspired many and opened a door for her family and friends to awaken to a different perspective on health, healing and health maintenance.
It is an honor that the foundation is named after her and is able to continue to share her message with others.
COYOTES LOVE MELONHEAD
Phoenix Coyotes donated $6100 to Patient Services Programs
Saturday Feb. 16 at the game with Hearts of Love for Melonhead.
Spouses of players, coaches & management fulfilled wishes for 12 Melonhead Families. Remarkable!
Sponsors


Get melon-themed jewelry
and support us!

L. Harvey Good
benefits our kids with
music from the heart.
Purchase I'll Be Strong
thru iTunes.


Melonhead has signed
the UNITY Pledge.
Login