Grant funding for the Melonhead Patient Services Program is provided by the following Arizona organizations. THANK YOU!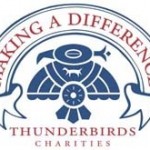 Phoenix Thunderbirds Charities donated the largest grant to date for the 2015/2016 grant cycle. $25,000! These funds support our Patient Aid Assistance Program.
Phoenix Suns awarded $4000 for our Patient Services Programs in 2015/2016.
Arizona Diamondbacks awarded a program grant of $5000 for Patient Programs in 2015/2016.
Arizona Cardinals awarded a $2500 grant for Patient Programs 2015/2016..